Monochrome Awards Winners' Gallery
Photojournalism - Honorable Mention
(Professional)
Blackworld: coal in Jharkhand by Erberto Zani (Switzerland)
s
Photo © Erberto Zani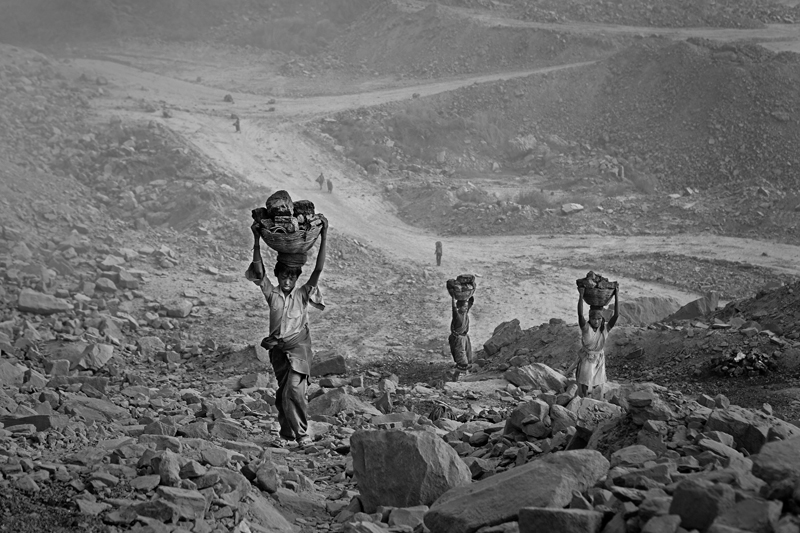 Entry description:
The world is black in Jharkhand, northeastern India. The entire area around the cities of Dhanbad, Jharia and Catras is full of coking coal, a treasure for the Indian economy (two thirds of all electricity in India is generated from this coal). Black dust and gasses shoot up from the ground: methane, carbon monoxide are in the air and many of the people who live and work in the region suffer for letal respiratory problems. Bokahapadi is a small village inside the coal area. The only economic activity is mining for one of the seven big companies. Those villagers do not work, scavenge coal illegally every day for survive: early in the morning, before the activity of miners start, they take small pieces of coal and loading into wicker baskets for sell at black market. In Bokahapadi area there are very few old people and many children and teens: people die young . But without a real job, these families don't have others chances.
About photographer:
Erberto Zani is a photographer, journalist and photo books designer. Since 1998 he worked as photographer in advertisement sector, especially for elevators, architectures and music portraits. Freelance since 2008, most of his works are focused on documentary-social themes. He cooperates with companies, magazines and No Profit Organizations, for photographs and editorial projects. Available for assignments internationally, he lives in Basel - Switzerland.
Worked in: Bangladesh, Burkina Faso, Cambodia, Camerun, Colombia, Costa Rica, Democratic Republic of Congo, Ethiopia, Ghana, Greece, Haiti, India, Israel, Lebanon, Nepal, Rwanda, Thailand, Togo, Uganda.
Photography books designed and published: Elemental Fashion (2019), Exodus (2018), Kied Pologo (2017), Aftermath (2016), Black World (2015), Maha Kumbh Mela (2014), Tsiry (2014), Babanagar-Colombia (2013), Sahel (2012), Hope (2011), Haiti, fragments (2010), Drops of Life (2010).
< back