Monochrome Awards Winners' Gallery
Abstract - Honorable Mention
(Professional)
186,000 mph by Serge Soucy (United States)
s
Photo © Serge Soucy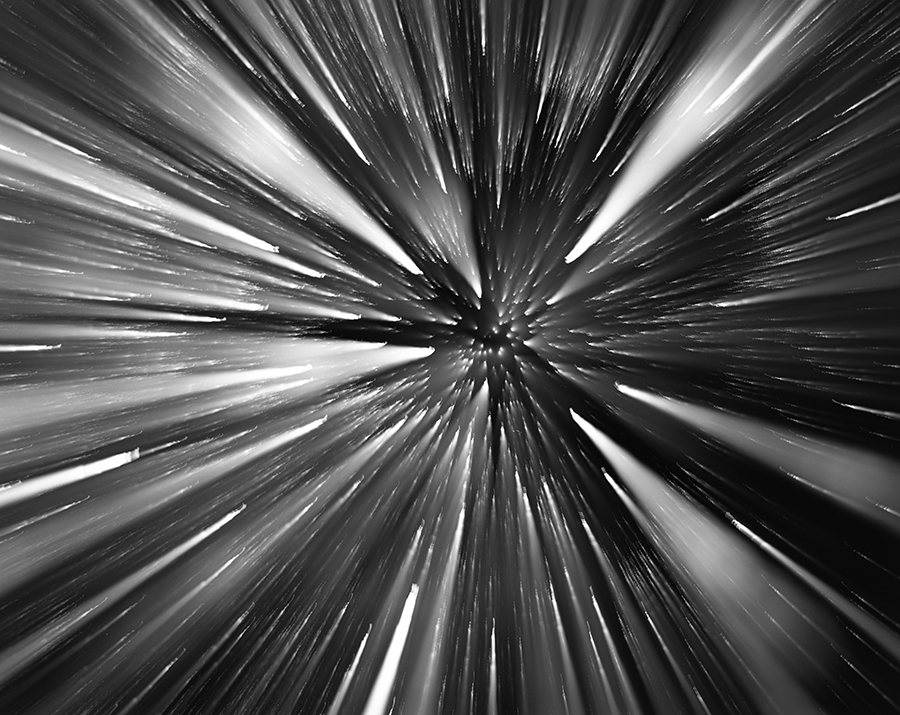 Entry description:
An artistic recreation of interstellar travel, inspired by works of scientific discovery and fiction. Shot on 4x5 Ilford Delta 100 iso film with a long exposure while in a stable panning motion, moving forward and backwards.
About photographer:
Having been fascinated by motion pictures from childhood, there seemed to be almost no questioning about how the rest of my life would be. In some form or another I wanted to take the nagging imagery, and stories that are always inside my head and to turn them into something. Be it a photograph, a film or even take these ideas to writing, I know that I won't be happy in this life if I remain silent.
While serving overseas in 2012, I used inheritance money from my Grandfather who had passed away around that time and I purchased a Nikon camera. After an honorable discharge about 2 years later and with some contemplation I headed to Boston, MA where I attended The New England School of Photography.
It was here that I learned more about myself through the images I made. While I was comfortable photographing most kinds of subject matters I ended up specializing in more fantastic/abstract representations of subjects and ideas. I wanted to escape literal, realistic images and to instead take viewers into a scene that's unearthly, different or seemingly beyond explanation. I worked with a very experimental, do anything kind of mindset. Long exposures, blurring, using any color balance, to creative composites and more, I did anything to make something extraordinary because we don't always know what we want, so embrace mistake shots and alternatives to your original ideas.
I currently reside in CT as an HVAC tech full time while working on my photography, video portfolios and film scripts until they can sustain myself.
< back