Monochrome Awards Winners' Gallery
Photojournalism - Honorable Mention
(Professional)
In the wooden house by Pierre-Yves Babelon (Morocco)
s
Photo © Pierre-Yves Babelon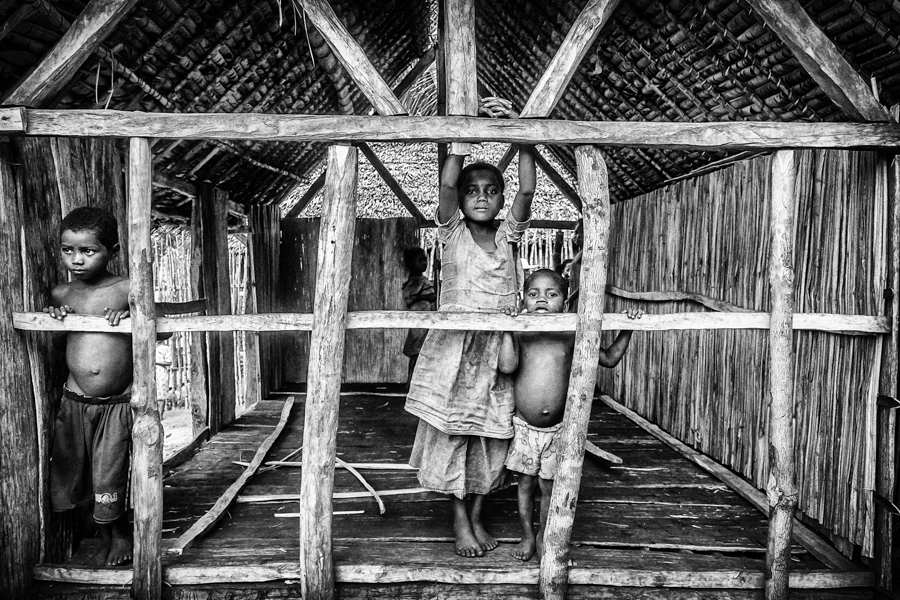 Entry description:
Betsimisaraka children in a tribal village along the Pangalanes channel, eastern Madagascar
About photographer:
Biographie
Né à Paris en 1961, après un passage à l'école des Beaux Arts de Grenoble et une formation en Arts Graphiques Numériques, il en devient formateur à l'école Supérieure ARIES (Graphic and Motion Design) de Grenoble. Il pratique en parallèle la photographie amateur en aménageant une chambre noire dans sa salle de bains, histoire de maîtriser la chaîne de développement.
C'est en 1999 qu'il se professionnalise en travaillant pour l'agence de presse IPR à Saint Denis de La Réunion. Il est alors webmaster mais replonge dans l'univers de la photographie et apprend les bases du photojournalisme en pleine révolution du numérique sur l'argentique.
En 2003 il s'installe à Madagascar et édite un magazine pour un groupement d'opérateurs touristiques. Il réalise alors lui-même ses photos et arpente en 7 ans les 4 coins de l'île pour en ramener quelques 30.000 clichés et réalise un site web dédié "www.madagascar-photo.com". Remarquées, ses images sont sélectionnées par des agences photo internationales comme Getty Images, Corbis ou encore Alamy.
Le coup d'état de 2009 l'oblige à quitter Madagascar pour parcourir le monde, faire une halte au Chili et atterrir à Tanger au Maroc, sa terre d'accueil.
< back