Monochrome Awards Winners' Gallery
Fine Art - Honorable Mention
(Professional)
Elegance Calla Lys Noir 2 by Dale M Reid (Canada)
s
Photo © Dale M Reid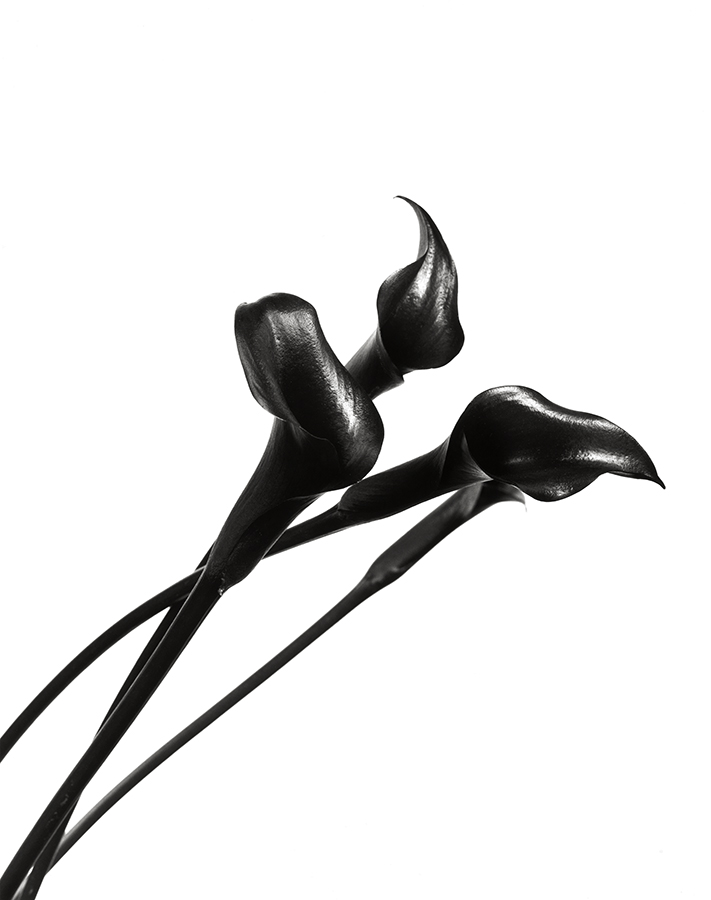 Entry description:
My preliminary selection is based on an initial emotional response. I look at individual cut stems of flowers, a bouquet of cut flowers or a plant taking into account their shapes and color. While I do not shoot in color, the color variations can create a distinctive texture. The objective is to capture the unique structure of the flower – shapes, lines and texture.
Flowers symbolize many concepts depending on the context and the culture. Specific flowers correspond to culturally specific symbols. I create my floral studies to symbolize sensuality and to be interpretative. Prior to clicking the shutter, I select a black or elegant white background to present my subject against; and pay careful attention the composition, the focus, the quality of lighting and anticipate printing the image in the darkroom. To round out my artistic expression, I use my darkroom skills to create depth and warmth in the subject. For those images presented on an elegant white background, they take on the look of a sketch or painting.
This image was created in 2014 with a Mamiya RZ67 Professional II medium format camera with a Sekor Z 110mm f/2.8W lens. I used Ilford Delta 100 Professional Black & White film and print on Ilford multigrade FB warmtone paper (glossy finish).
About photographer:
Contemporary fine art photographer Dale M Reid has gone through many transitions in life: from leaving the corporate world and entering the art world, to the discovery of inter-femininity and a new outlook on life.
Photography has always played an important role in Dale's life; however, since 1999 she has developed and moved into a second career as a fine art photographer. Dale's outlook on life changed drastically when her life partner and soulmate was diagnosed with Multiple Sclerosis. Despite the challenges over the years, their relationship continues to grow stronger.
Inspired by studying other photographers work and other art forms, her artwork has been compared to classical photographers such as Edward Weston and Ansel Adams, as well as to contemporary photographers such as Robert Mapplethorpe and Cindy Sherman.
In creating her artwork, Dale exclusively uses black & white film and traditional photography methods. The lack of color allows the viewer to focus on the variety of textures and the richness of interesting lines and shapes that engage in an elegant visual synthesis onto each photograph.
Early photographic explorations included landscapes and interpretative self portraits. She started to develop her artistic style with a strong focus on creating landscape images. These images ranged from maritime to urban to industrial views. After moving into her studio in 2008, her work has expanded significantly to include floral and still life studies. Today, her artwork is primarily created in the studio where she creates botanical subjects with unimaginable personality and emotion. Working in the controlled studio environment has allowed Dale more flexibility to experiment with composition and lighting.
Dale's artwork continues to be recognized internationally by juried art competitions resulting in the participations in group exhibitions, awards and nominations.
Reid is currently based in Toronto, Canada.
< back