Monochrome Awards Winners' Gallery
Photomanipulation - Honorable Mention
(Professional)
The Diamond_Tirana by Jesus H. Mayor (Netherlands)
s
Photo © Jesus H. Mayor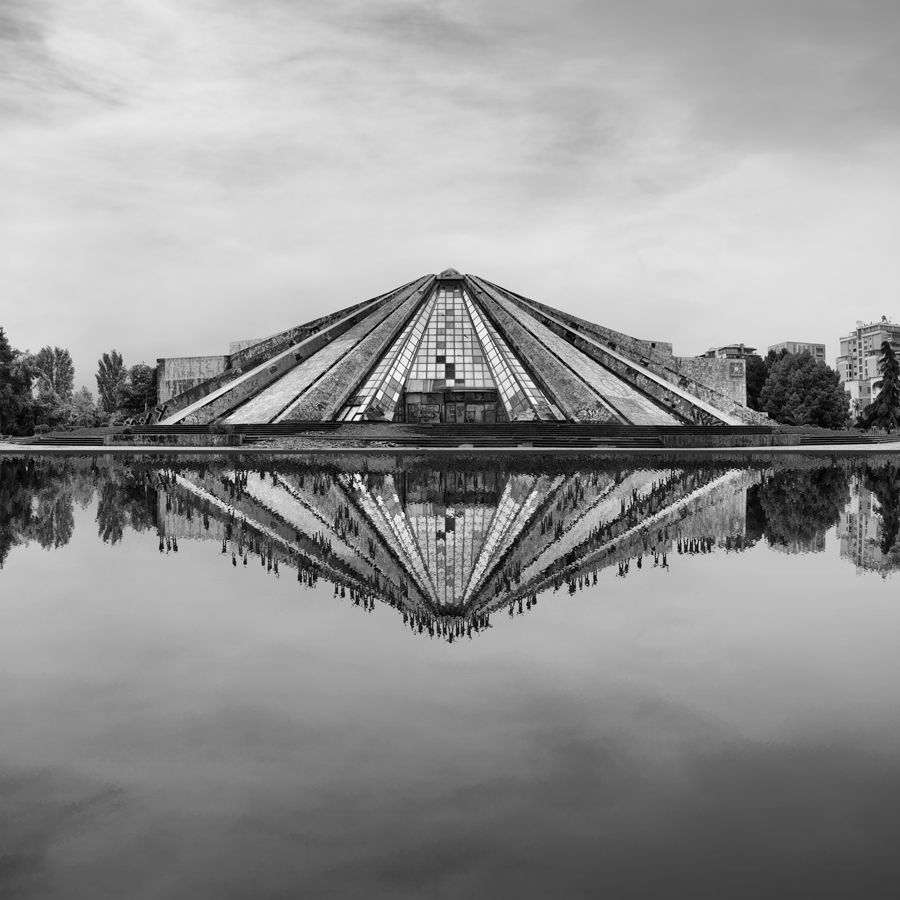 Entry description:
The Pyramid of Tirana was built in 1988 as a museum to exhibit the legacy of the Communist dictator Enver Hoxha. After the collapse of Communism in 1991, the Pyramid ceased its function and remained partially abandoned provoking confronted discussions on its preservation or complete demolition.
Referred by many as the "Enver Hoxha Mausoleum", the pyramid is a dualistic symbol that reflects the two sides of the recent history of Albania: the radical and autocratic communist regime that isolated the country from the rest of the world, and the following uncontrolled ultraliberal period that promoted a massive financial pyramid leading the country to a civil war in 1997.
About photographer:
Mayor (b. Madrid) is a visual artist based in Rotterdam. He was educated as an architect and a visual artist in Madrid, Turin and London. In 2001 he established the office for architecture, urban planning and landscape architecture Casanova+Hernandez Architects in Rotterdam. In parallel he has developed his artistic work, first in Madrid and later in Atelier-Mayor located in Rotterdam.
The Speculations series is the artistic expression of his dualistic personality, combining art and architecture in an extensive work that uses different media such as large-format photographs, paintings and video-art pieces focused on cities and places in more than 60 countries.
Mayor's architectural and artistic work has been exhibited in many museums and art galleries such as: CICA Museum, South Korea (2017), ICO Museum, Madrid (2015), Museu Nacional de Soares dos Reis, Porto (2014), Architektur Galerie Berlin (2013), Real Academia de España, Rome (2011), Latin Cultural Centre, Dallas (2011), Instituto Cervantes, Chicago (2011), Nai, Rotterdam (2010, 2007, 2004), La Casa Encendida, Madrid (2010), Columbia University, New York (2009), Arqueria Nuevos Ministerios, Madrid (2008, 2002), Architekturzentrum, Vienna (2007), Magazinni del Sale, Venice (2007), Centrale Bibliotheek, Rotterdam (2007), Kunstmuseum, Stuttgart (2006), Van Nelle Fabriek, Rotterdam (2005), The Hague City Hall, The Hague (2004) and Mies van der Rohe Pavilion, Barcelona (2004).
< back