Monochrome Awards Winners' Gallery
Wildlife - Honorable Mention
(Professional)
Yemaya by Torleif Lie (United States)
s
Photo © Torleif Lie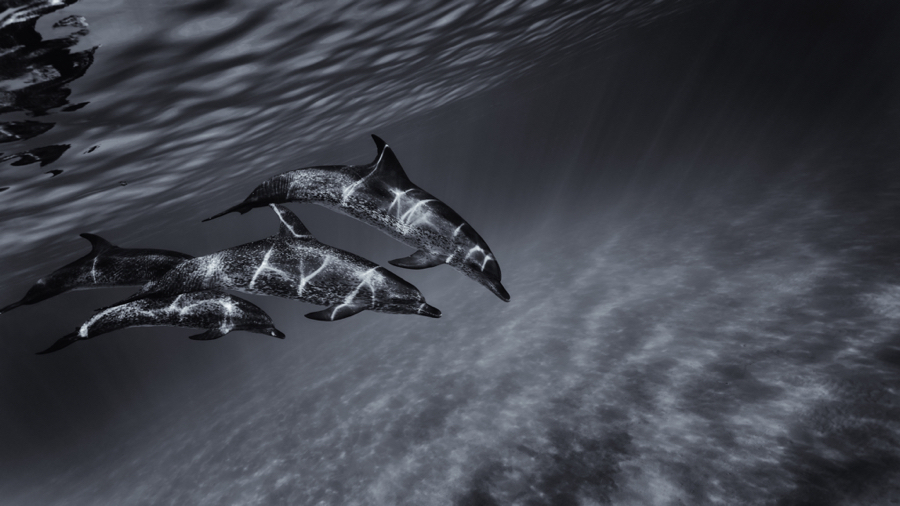 Entry description:
Yemaya is the Yorùbá Orisha or Goddess of the living Ocean, considered the mother of all.
Swimming with the wild dolphins was a wonderful and magical experience that touched the very core of my soul. I feel utterly privileged to have experienced these magnificent sentient beings in their own home, on their own terms and to share the mutual joy of being together in the crystal clear, warm waters off the coast of Bahamas.
The pristine waters offered an unbelievable clarity with incredible colors, ranging from crystal clear turquoise to all imaginable shades of blues: ultramarine, azure, cerulean, royal blue, sea green and even rich purples.
Holding my breath while free diving down to 30 feet to position the massive underwater camera system for the perfect shot was both enthralling and challenging. From below, the water and surface shimmered as though it was glass, reflecting the beautiful dolphins and offering a unique perspective on this underwater paradise.
About photographer:
Torleif Lie is an international, multi award winning landscape photographer based in Daytona Beach, Florida. Specialising in landscape, underwater and nature photography.
Torleif's stature as a photographer was indisputably confirmed with his receipt of the title 'WORLD`S TOP 10 LANDSCAPE PHOTOGRAPHER 2017' ranked as #2 in America and #8 in the World.
In addition he was awarded Silver in the MOSCOW INTERNATIONAL FOTOGRAPHY AWARDS – MIFA for his image "Golden Hour" in the Nature-Sunset Category and Silver in the PX3 PRIX DE LA PHOTOGRAPHIE PARIS for his image "Desert Cathedral"
"My vision is to travel the globe on an eternal quest to capture unique moments in time of our magnificent and fragile planet.
Capturing the raw beauty and living energy of Mother Nature with all her natural wonders and beautiful creatures is my inspiration and what I live and crave for.
Through the imagery I create I try to reach out and touch the heart and soul of my audience and open their mind and awareness for the enchanting beauty of the natural wonders in the world that we live in.
I welcome you to take part of my journey through the images I create".
www.thor.photography
< back